Dessert
PB Crave Chocolate Chip Cookies
1h Servings Vary Chocolate Chip Cookie Dough
Healthy Living
Vegetarian
Comfort Foods
Holiday
Entertaining
Ingredients
½ Cup butter, softened
½ cup PB Crave Peanut Butter
1 Cup packed brown sugar
½ cup white sugar
2 eggs
2 tablespoons light corn syrup
2 table spoons water
2 teaspoons vanilla extract
2 ½ cups all purpose flour
1 teaspoon baking soda
½ teaspoon salt
2 cups chopped semisweet chocolate
Testimonials
Instantly addicted! Incredibly pleased! Awesome alternative to traditional plain peanut butter. Great consistency, great taste! Goes great on toast, with oatmeal, or just on a spoon! LOVE IT!
LOVE IT! PB CRAVE, is awesome the best I have ever had. All the flavors are great. Razzle Dazzle is my favorite, you have to try it. It's the BOOM!!!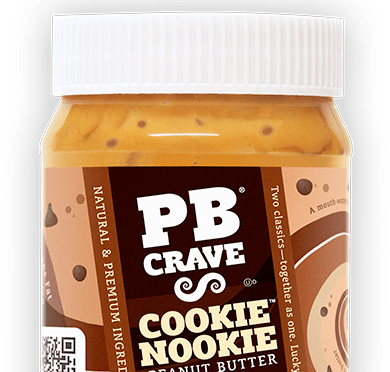 IDA (Newark, Ca.)
Instructions

Preheat oven to 375 degrees F (190 degrees C).
In a large bowl, cream together the butter, peanut butter, brown sugar, and white sugar until smooth.
Beat in the eggs one at a time, then stir in the corn syrup, water, and vanilla.
Combine the flour, baking soda, and salt; stir into the peanut butter mixture.
Fold in chocolate chunks. Drop by 1/4 cup fulls 3 inches a part onto ungreased baking sheets.
Bake for 12 to 14 minutes in the preheated oven, or until edges are golden.
Allow cookies to cool for 1 minute on the cookie sheet before removing to wire racks to cool completely.
Enjoy!
Get Our Freshest Recipes Sent Directly to your Inbox