Snack
Peanut Butter Chocolate Chip Banana Bread
2h 2 loaves Chocolate Chip Cookie Dough
Vegetarian
Comfort Foods
Holiday
Entertaining
Kid Friendly
Ingredients
½ cup butter, room temperature
¾ cup Cookie Nookie PB Crave Peanut Butter
2 cups sugar
4 eggs
4 cups flour
2 tsp baking powder
2 tsp baking soda
6 very ripe bananas, mashed
1 ½ cup semi-sweet chocolate chips
Testimonials
Instantly addicted! Incredibly pleased! Awesome alternative to traditional plain peanut butter. Great consistency, great taste! Goes great on toast, with oatmeal, or just on a spoon! LOVE IT!
LOVE IT! PB CRAVE, is awesome the best I have ever had. All the flavors are great. Razzle Dazzle is my favorite, you have to try it. It's the BOOM!!!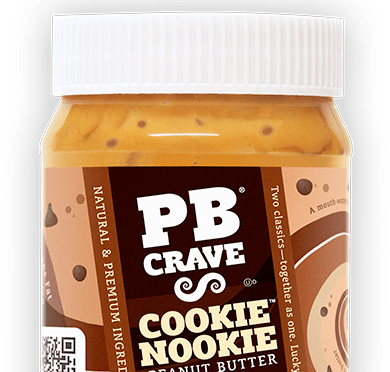 IDA (Newark, Ca.)
Instructions

Preheat oven to 350 degrees. Grease two 9x5 loaf pans
In a large bowl cream together butter, peanut butter, and sugar until light and fluffy.
Add eggs, one at a time, beating well after each addition.
Sift in flour, baking powder, baking soda.
Stir until dry ingredients are moist.
Fold in bananas.
Reserve ¼ cup of the chocolate chips, set aside.
Gently fold in the remaining chocolate chips.
Pour the batter into the prepared dishes.
Sprinkle the loaves with the reserved chocolate chips. Bake 55 to 60 minutes or until a toothpick inserted comes out clean.
Get Our Freshest Recipes Sent Directly to your Inbox