Dessert
Peanut Butter Cookie Sandwiches
2h Servings Vary Sweet & Dark Chocolate
Vegetarian
Comfort Foods
Holiday
Entertaining
Kid Friendly
Ingredients
For the Cookies

1 cup all-purpose flour
3/4 cup quick cooking oats
1/2 teaspoon baking soda
1/2 teaspoon salt
1/2 cup Choco Choco PB Crave Peanut Butter
1/2 cup unsalted butter at room temperature
1/2 cup brown sugar
1/2 cup white sugar
1 egg
1 teaspoon vanilla extract
For the Chocolate Peanut Butter Icing

3/4 cup Choco Choco PB Crave Peanut Butter
3 tablespoons unsalted butter at room temperature
1/2 cup icing sugar
1-2 tablespoons milk
2/3 cup Jumbo Salted Peanuts, chopped
Stir together the flour, oats, baking soda, and salt. Set aside.
Testimonials
Instantly addicted! Incredibly pleased! Awesome alternative to traditional plain peanut butter. Great consistency, great taste! Goes great on toast, with oatmeal, or just on a spoon! LOVE IT!
LOVE IT! PB CRAVE, is awesome the best I have ever had. All the flavors are great. Razzle Dazzle is my favorite, you have to try it. It's the BOOM!!!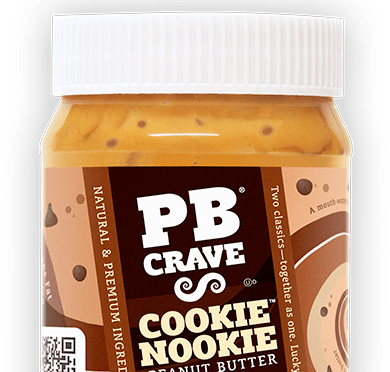 IDA (Newark, Ca.)
Instructions

In the bowl of your mixer, cream together the butter and peanut butter until completely combined. Beat in the sugar, then scrape down the sides of the bowl before beating in the egg until the mixture lightens in color.
o Stir the flour mixture into the peanut butter mixture until a wet, sticky dough forms. Place plastic wrap over the bowl and chill in the fridge until the dough is firm enough to handle (minimum 40 minutes, max two hours).
Line a baking tray with parchment paper. Once the dough has chilled, scoop it in slightly heaping tablespoon and roll into balls. Use your fingers to gently flatten the cookie dough.
Bake at 350° for 9-12 minutes.
The cookies will be extremely soft when fresh from the oven. Either allow them to cool on the baking sheet before moving to a cooling rack, or simply slide the whole piece of parchment paper onto the wire rack.
Make the icing while the cookies are cooling. Cream together the peanut butter and the butter, then beat in the icing sugar until smooth. Beat in a tablespoon of milk, and if the icing needs to be thinned out more beat in one additional tablespoon of milk. It should be thick, but still smooth and spreadable.
Divide the cookies into pairs. Spread one cookie in each pair with a generous spoonful of icing. On the other cookie in each pair spread a thinner layer of icing to help hold the sandwich together once the chopped nuts have been added.
Sprinkle the generously iced cookie with chopped peanuts, then press the other cookie on top to form a cookie sandwich and serve!
Get Our Freshest Recipes Sent Directly to your Inbox